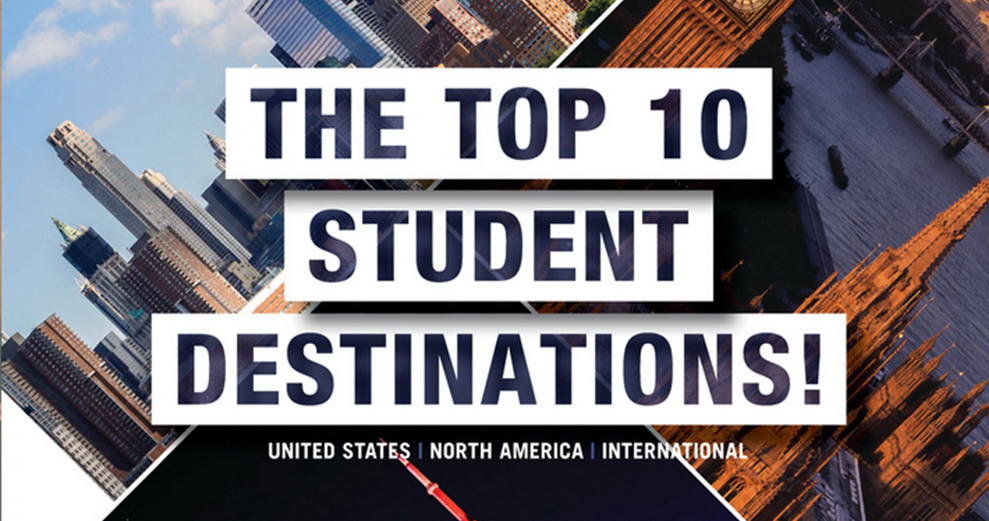 Announcing the Top 10 Student Destinations of 2017
January 10, 2017
WASHINGTON, D.C., January 10, 2017 — Despite what's happening in the world, students are traveling and the Student & Youth Travel Association (SYTA) knows where they are going.
Each year, Teach & Travel—the official publication of the SYTA—features the top destinations for student groups as reported by SYTA member tour operators. Newbies to the Top 10 U.S. Destinations list this year are Williamsburg, Virginia and Atlanta, Georgia. New to the Top 10 North American Destinations are the cool Canadian cities of Vancouver, Whistler and Banff.
2017 Top 10 Student Travel Destinations
U.S.
New York
Orlando
Washington, D.C.
Chicago
Los Angeles
Williamsburg
Philadelphia
Atlanta
San Francisco
Boston
North America
Toronto
Montreal
Niagara Falls
Ottawa
Quebec
Vancouver
Whistler
Banff
Nassau
Riviera Maya
International
London
Paris
Rome
Madrid
Dublin
Barcelona
China
Costa Rica
Australia
Florence
Emerging Destinations
San Antonio
Nashville
Cleveland
Anaheim
Honolulu
To see the 2016 lists, click here.
###
About Student & Youth Travel Association
SYTA is the non-profit, professional trade association that promotes student and youth group travel. It seeks to foster integrity and professionalism among student and youth travel service providers. SYTA members play an important role in facilitating both domestic mobility and international incoming and outgoing mobility worldwide. As the voice of student and youth travel, SYTA represents the interests of leading U.S., Canadian and international travel agencies, tour operators, attractions, destinations, educators and suppliers. www.syta.org